×
Summer Quarter Update: In-person student services available from 9 a.m. - 4:30 p.m., Monday-Thursday for most departments.
Please continue to follow campus entry procedures when visiting for classes and services.
Past Releases for year 2010
Previous releases of the Northwest Wine Academy wines can be found here. These wines may no longer be available for purchase.
---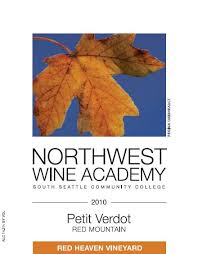 2010 Petit Verdot
French for Little Green, there are records of Petit Verdot as early as the late 16th and early 17th centuries. It is speculated that Petit Verdot descended from Balisca, came from the Greeks and/or Romans, via Albania. This 100% varietal wine comes from one of Washington's most acclaimed sites, Red Mountain. With aromas of blackberry, anise and forest floor, this dark beauty has full firm tannins and a huge structure that would benefit from decanting.
2010 Petit Verdot Tasting Notes
Varieties: 100% Petit Verdot
Production: 40 Cases
Pair: Grilled lamb, Barbecue red meat
Alcohol : 14.2% by volume
Location : Red Mountain
---