Tasting Room
Fall 2023 Update:  
The Northwest Wine Academy Tasting Room, Wine Bar and Retail Store will be open Thursday-Saturday from 1-6pm. 
We look forward to seeing you. Thank you for supporting our program! 
Come taste and purchase our student-produced wine!
Our wine building on campus features a large tasting room and retail store. While tasting one of our current releases, you can see the barrel room and classrooms that make up our teaching winery. Come support our student winemakers and join us for a student tasting. Look for special events in our newsletter!
The adjacent outdoor patio is a perfect space for enjoying a glass of wine. For special events, our tasting room can be opened to our winery, kitchen, and patio through large roll-up glass doors.
New! There is a tasting fee of $8 per person which includes 4 varieties in the flight or you can purchase a glass of any of our wines.
To schedule an appointment for groups of ten or more, please contact us at WineInfo@seattlecolleges.edu.
NWWA Building by Boxwood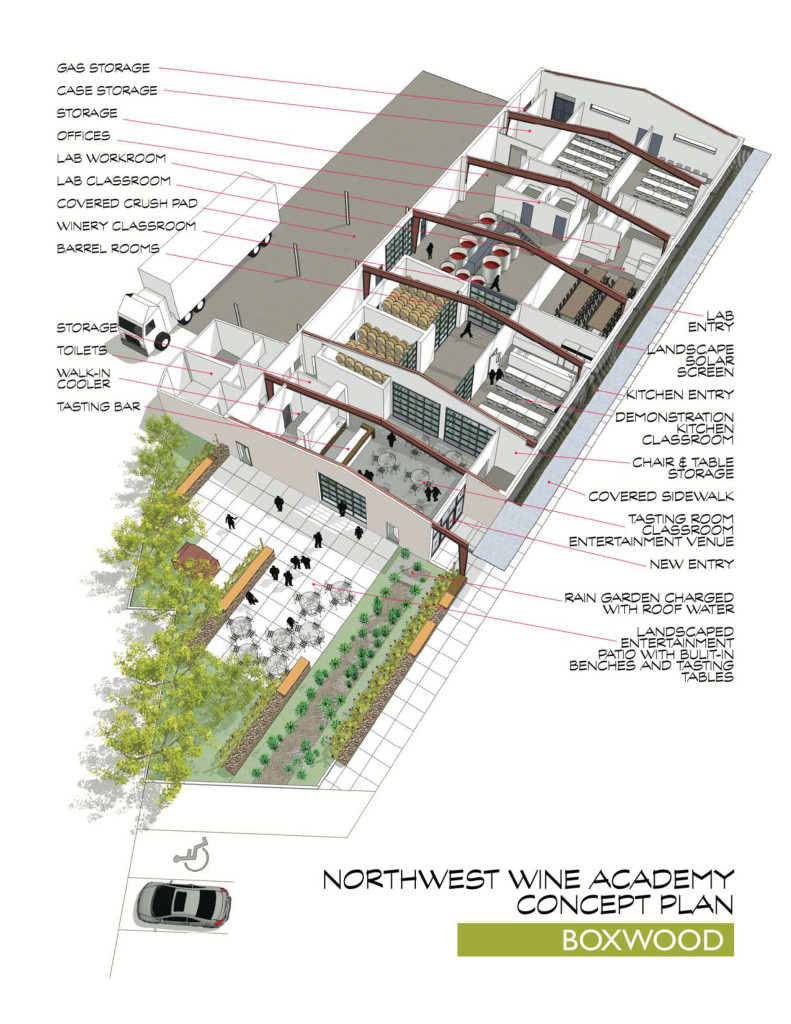 Our facility was designed by Boxwood Architects, a Seattle-based firm that specializes in winery design, and we believe our tasting room to be a crown jewel. With reclaimed redwood as a backdrop, the tasting room counter is faced with basalt rock, prevalent in Eastern Washington's wine-rich land. The multi-function space that makes up our tasting room can be converted to a much larger event space by opening roll-up glass doors.  This allows our tasting room to be connected to our winery, kitchen and patio.
Our barrel rooms are constructed as a "room within a room" inside of our winery building; this allows us to store wine for an extended period with minimal temperature variation.  Walls surrounding our barrel rooms are constructed with Faswall blocks using recycled wood shipping palettes and cement. In addition to adding an attractive design element, this highly-insulated material significantly reduces the amount of energy required to cool the rooms.
Grapes are processed on our crush pad adjacent to the winery building. Our winery space includes a fermentation room with temperature-controlled tanks, plenty of work space for winery operations, and on-site laboratory which also doubles as a classroom.