Faculty
Our instructors are highly-qualified, well known and respected wine industry veterans who bring a wealth of expertise and experience to the classroom, ensuring that students are well-prepared to enter the job market after graduation or progress in their current careers.
---
Bill Snyder
Wine Production Instructor, Winemaker
Bill Snyder was born outside Saratoga, New York and graduated from the University of Pennsylvania with a Bachelor's degree in Neuroscience.  Bill fell in love with wine while working in the restaurant industry in Philadelphia and Tucson. After working at wineries in California and Australia, Bill worked most recently as Technical Director for Testarossa Winery in Los Gatos, California overseeing analysis, quality assurance, bottling, and winemaking operations.  Bill also served as a consultant for First Growth Vineyard Management, specializing in establishing small vineyards intended for premium wine grape production in the Santa Cruz Mountains.
Bill has experience making wine from both cool- and warm-climate growing regions, and under conventional and organic/biodynamic viticulture systems. He has taken advanced coursework in enology, viticulture, wine microbiology, food safety, quality assurance, and biodynamic agriculture. He loves education and training, and is passionate about sharing the wine industry with others.
---
Brandon Sturm
In 2011, Montana native Brandon Sturm left the poker industry to pursue his newfound passion, Washington wine. A Northwest Wine Academy graduate (2013 - Marketing), Brandon has dedicated himself to the dissemination of wine knowledge and furthering of wine culture. Brandon teaches classes on wine production, viticulture, Washington & international wine culture and winery business operations.
Favorite Grape - Syrah (especially if co-fermented with Viognier)
Favorite New-World Region - The Rocks District of Milton Freewater
Favorite Old-World Regions - Chablis or Chateanneuf du Pape
---
Jennifer Hurley
Jennifer Hurley grew up in Alaska and moved to Seattle in 2012 after stops in Chicago and Cincinnati. Jen has a Bachelor's degree in Chemical Engineering from Illinois Institute of Technology and a PhD in Biomedical Engineering from the University of Cincinnati. After moving to the Pacific Northwest, Jen began exploring the wine industry by taking classes at the Northwest Wine Academy, and completed her Certificate in Wine Making in 2015. Jen has worked harvests at both NWWA and Chateau Ste. Michelle. In her free time, Jen loves to travel with her husband and always checks out regional wineries; her favorite trips include New Zealand, South Africa and Spain.
---
Leonard Redé
A restaurateur, wine steward, consultant and educator with almost 30 years of industry experience, Leonard Redé has a unique blend of culinary and wine expertise. He is currently the European Wine Specialist at Esquin Wine Merchants. Prior to that, he was Operations Manager at Wine World working alongside David LeClaire helping to create the largest wine store in Washington State. He has worked as a Wine Steward for Metropolitan Market and is a well regarded in the wine industry for his knowledge of wine history and gastronomy. As instructor in the Wine Studies program at South Seattle College, he wrote the curriculum for the Associate of Arts Degree in Food and Wine Pairing, the first college level program of its kind. He is a an award winning chef and he was nominated for educator of the year while Chef Instructor at the world renowned Le Cordon Bleu College of Culinary Arts.
---
Jim Del Ciello
Jim Del Ciello has over 15 years of experience as a agricultural and wine marketing professional. He has advised agricultural businesses nationwide, with USDA's Agricultural Marketing Service. He was one of only four wine stewards for Costco: the largest purveyor of wines in the world. He has worked the adult beverage trade for a variety of national and local distributors, as brand and territory manager. Mr. Del Ciello was also an Adjunct Professor at Central Washington University's Global Wine Studies program. He is also an expert on the regional wines of Italy. He regularly consults with wine producers, wine brand portfolios and wine futures investors. He holds an advanced degree from the University of Washington's Evans School of Public Policy, where he specialized in the study of trade, transportation and logistics. He also enhanced his wine career with studies at the Northwest Wine Academy. He is currently an adult beverage buyer at Whole Foods Market. He spends his free time reading non-fiction, going to museums, cooking fresh meals for friends, family, and especially his son. Mr. Del Ciello has been an engaged member of the West Seattle community for the last 14 years.
---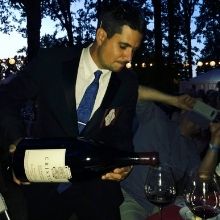 Paul Swanson

Paul Swanson grew up in the Midwest with a family who loved to cook. Once high school ended, he began working in restaurants to pay his way through college. After graduating with a bachelor's degree in Philosophy and Psychology, Paul moved down to Florida with the intent of going to law school. While working for the legendary Berns Steakhouse restaurant group in Tampa, he changed his career path indefinitely. A combination of holding that old bottle of Madeira that was once part of the Napoleon Bonaparte family along with the sheer magnitude of their legendary wine list ignited his passion for wine.

In 2008, Paul moved to Seattle to immerse himself in the world of wine. The burgeoning Washington wine industry, the sommelier community, and starting a family were all at the top of his list. In Seattle, he has honed his craft while working for a pair of wine-centric restaurants; Michael Mina and Rajat Parr's RN74 and the Grand Award wine list from Wild Ginger. RN74 has proved to be a most amazing and formative opportunity. He has been able to learn and study from some of the most talented Sommeliers in the business. Paul worked on the wine team for six years! He began as CellarMaster and finished his time as the Lead Sommelier.

Paul has traveled to Europe to explore the classic wine producing regions of France and Italy which only reinforced his obsession with the fermented grape. In Spring 2017, Paul obtained his Advanced Sommelier Certification through the Court of Master Sommeliers and is currently preparing for the Master Sommelier exam. Paul has expanded his wine repertoire by working as an Account Manager for a local Importing/Distribution Company - Walden Selections for several years. He has also begun consulting with local restaurant's wine programs and offering private sommelier tasting experiences. Most recently, Paul has began working as the Northwest Region Account Manager for the online auction warehouse WineBid.com.
---
Interested in teaching in our Wine Program?
Please send your resume and a cover letter that explains your qualifications and goals to WineInfo@seattlecolleges.edu.